Biggest Range of Profiles in the UK
Offers
25% Discount on ALL InteX Tools
Use discount code INTEX25 during checkout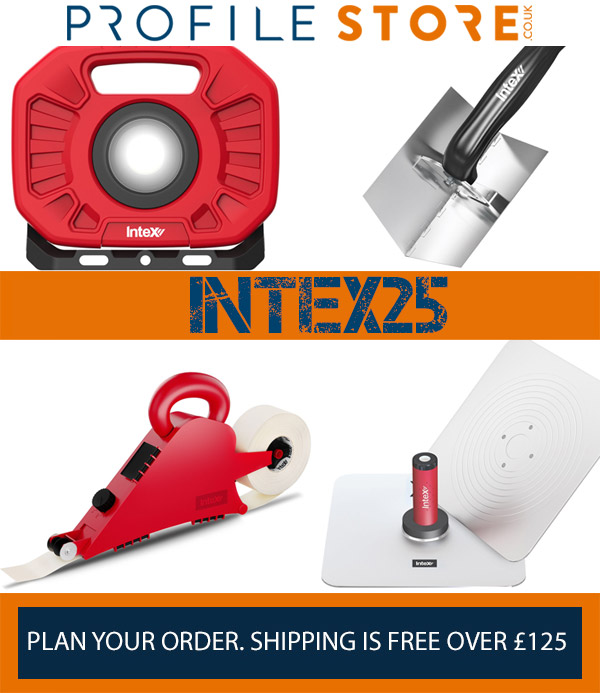 We're expanding our range of InteX - over fifty new products are incoming within days!

To celebrate we're offering a 25% discount on all our InteX range.

These tools are ideal 'basket fillers' to bring your order to over £125 for free shipping.
Use the discount code to get 25% all InteX items.
The code will expire at the end of July 2021.
Use as many times as you need - we don't limit your usage.
---
Key features and benefits of shopping with Profilestore:
Free next business day delivery on orders of £125 **
Visible stock levels. Making it easy for you to buy a single length or hundreds of them without worrying about items not being in stock.
Our standard delivery is next business day.
You can collect your goods within an hour of placing an order (week days only).
Our website is easy and quick to use - you don't even need to have an account with us to purchase from us - although there are benefits.
Printed VAT invoices will ship with every order. They can also be downloaded from the website - useful when you lose the paperwork on site!
Previous orders can be reordered with a single button click.
If an item is out of stock, you can click a button and let the website automatically update you when it arrives back in stock with us.
Payment methods include, PayPal and all major credit cards.
Orders can be placed on all computers, mobile phones as well as tablets.