How do offers work?
On some of our products you'll see the following: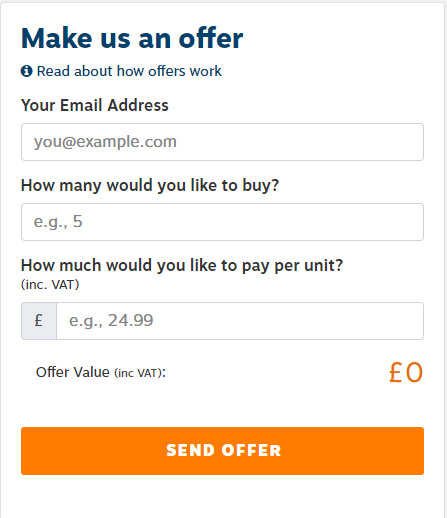 This allows you to make us an offer for goods that you think the price may be too high. Our end of line section contains a lot of products with offers on but they are dotted around the rest of the website as well.
It is very easy to use - four simple steps that will take seconds.
Enter your email address - so we can confirm things with you.
Enter the quantity you want to purchase from us - the larger the quantity the lower we'll drop the price.
Enter the price you want to pay PER ITEM (the price is INCLUSIVE of VAT).
If you are happy click SEND OFFER.
---
The website will automatically send you an email confirming your offer.
During normal office hours we'll review your offer within an hour of receiving it.
If you win you'll get an email containing a link to click to purchase the goods.
If we decline your offer you'll get an email - you are more than welcome to try again with a more suitable offer.
We may also offer you a counter offer which we feel is more appropriate.
---
"The more products you buy, the more we'll drop the price"
---
Products may still be sold during your offer process - the only way to guaranty winning the item at the price you've offered is to get the offered accepted and pay for it!
---
If you would like a product considered for one of these offers please email us.